Dr Jeff Vassallo
PhD, B.Sc (Hons), MAIG
Director & Chief Consultant
Jeff is an Exploration and Structural Geologist with 18 years' experience including upper level management roles in government and a publically listed exploration company. Recent efforts include the operational management of multiple significant joint venture farm-in programs for Australian and international partners including identifying and discovering blind metallic mineral systems under thick conductive cover and understanding ore deposit genesis and morphology.
In the past Jeff has investigated the dynamic evolution of Palaeoproterozoic rocks in South Australia, NSW and Antarctica. Work included mapping of remote poly deformed terranes, regional geophysical synthesis, radiometric dating, petrology, and high resolution geochemistry with results published in scientific journals.
Jeff founded Knox Minerals Pty Ltd in September 2014 with the goal of generating wealth for clients and investors through the discovery and further understanding of large scale metallic deposits.
Jeff has a PhD from the University of Melbourne and is currently a member of the Australian Institute of Geoscientists.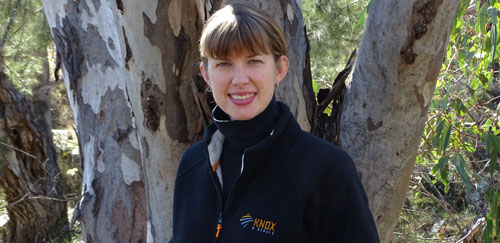 Kristy Vassallo
JP, B.Sc (Hons), MAIG
Principal Consultant Geologist
Kristy is an Exploration Geologist with 16 years' diverse experience in industry exploring for Palaeozoic orogenic, epithermal and porphyry hosted Au-Cu deposits. This has involved the planning and implementation of a variety of exploration programs from regional geophysical surveys and interpretation through to diamond drilling. She has managed large scale joint venture activities, staff and contractors, and contractual negotiations. Kristy is a specialist in tenement management, data QA/QC and all forms of statutory reporting.
Kristy has been with Knox Minerals since its inception in 2014, and is dedicated to the goal of being at the forefront of exploration discovery.
Kristy has a B. App Sci from the University of Canberra and a B.Sc Hons (First Class) from the Australian National University. She is currently a member of the Australian Institute of Geoscientists, the Geological Society of Australia and the Society of Economic Geologists.